These days, there is a lot of craze about, 'Restaurant Style' recipes and …
Easy and healthy Methi Rice | Methi Pulao | Methi Bath Recipe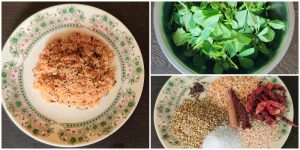 Methi Pulao or Methi Bath or Methi rice is an easy rice recipe. Here is an easy Methi Bath recipe Karnataka style with Methi Pulao cooking video.
Type: Main Dish
Cuisine: South Indian
Keywords: Methi Pulao, Methi Bath, Methi RIce
Recipe Yield: 4
Calories: 250
Preparation Time: 20M
Cooking Time: 30M
Total Time: 50M
Recipe Video: https://youtu.be/ADq8WUlRFqg
Video Content URL: https://youtu.be/ADq8WUlRFqg
Recipe Video Thumbnail: https://nirvandiaries.com/wp-content/uploads/2020/09/Methi-pulao-recipe_Thumbnail.jpg
Recipe Video Name: Methi Pulao Recipe
Video Upload Date: 09/08/2020
Recipe Video Description: This a Methi Pulao cooking video. Methi pulao or Methi rice is a rice preparation made from rice and Fenugreek or Methi leaves. It can be eaten during lunch, dinner, or even breakfast.
Recipe Ingredients:
Methi Leaves (Fenugreek Leaves)         
Potatoes (Optional)                                   
Cooking Oil                                                 
Mustard Seeds                                           
Chana Dal                                                   
Urad Dal                                                     
Hing (Asafoetida)                                     
Haldi (Turmeric Powder)                       
Citric Acid         
Recipe Instruction Name: Methi Pulao
Recipe Instructions: After proper cleaning of the Methi Leaves fine chop them and keep aside Potatoes are optional but give a nice crunchy taste, you can cut them into small pieces and  keep aside Heat cooking oil in a pan Once the oil is heated, add the mustard seeds and allow them to sputter Next, immediately add the Chana Dal The next step is to add the Urad Dal Fry the above ingredients for a minute on medium flame and ensure that they are not burnt Add a pinch of Hing and Haldi Now add the cut potatoes and saute for a few minutes Then add the chopped Methi leaves and stir for a few minutes Cover the pan and cook for about 5 minutes Add a little salt and stir the mix of methi leaves and potatoes Once the vegetables are cooked nicely and you can smell the aroma of methi, add 6 Tbsps. of the Masala powder prepared in Stage I Add Citric Acid Stir and mix well Now add the pre-cooked rice and add salt as per taste and mix gently but well If you want your Methi Pulao to be spicier you can add a spoon or two of red chilly powder before mixing the rice