The kitchen for us kids used to be a place of wonder. A place where the magic happened and tasty food materialized in the hands of a smiling Mom. The different exotic aromas wafting from the kitchen drew us to it like a magnet. We watched with wonder as skilful hands seemed to write poetry on a saucepan with batter, the resultant poem being a crisp and perfect Dosa (Rice Pancake) like a Shakespearean sonnet. The kitchen was where we learned about the wonders of the vegetable that most people love to hate, Brinjal! and that is where we also learned all about Brinjal dishes. These childhood experiences fueled an insatiable interest in food and cooking and led to our own experiments with food. Read about Brinjal dishes from India and the world as well as the history, health benefits and legends associated with the Brinjal also known as Eggplant or Aubergine.
Brinjal Dishes – History and Benefits of Brinjal aka Eggplant/Aubergine
The Brinjal or Eggplant is a much-maligned and a much-hated vegetable. If you don't believe that, try feeding it to a kid! Childhood memories of being coaxed to eat Brinjal curry by means of a story about the crown that the Brinjal got and how it became the king of vegetables still linger.
But the same boring eggplant acquires a downright royal flavour when cooked in the right way and with the right spices.
Brinjal Stories – History & Legends of The Brinjal
The origin of Brinjal is traced to prehistoric times in India. The Brinjal was introduced to the Western world only much later. The amazing heritage of India has left an ancient legacy that extends to knowledge banks that span diverse subjects, from the great Indian epics to treatises on Sex like the Kamsutra and treatises on cooking like the Pak Shastra.
Mention of the Brinjal and Brinjal recipes are found in the ancient text of cookery in India., Pak Shastra.
It is generally believed that the Brinjal was first cultivated in India and slowly found its way to other regions of the world. Brinjal was introduced to the African region by Persia from India while the Arabs took it to Spain. From Spain, the humble vegetable with a crown found its way to the rest of Europe, and then slowly the Brinjal started bringing joy to the entire world.
An Indian legend has it that the Brinjal was a creation of the famous sage Vishwamitra and hence it is referred to as, "Vishwamitra Srishti", which literally means, "the creation of Vishwamitra". Owing to its texture, the Brinjal is also seen by many as a vegetarian substitute for meat and hence it is not used in cooking during religious festivals.
Brinjal Names
"What's in a name? That which we call a Brinjal by any other name would taste as good". We apologize to Shakespeare who must be writhing in his grave for appropriating and mutilating this famous quote from "Romeo And Juliet".
The scientific or botanical name of Brinjal is Solanum Melongena
It is called Brinjal in Asia and Africa
Brinjal is known as Eggplant in the USA and some other regions
In the UK and other parts of Europe, the Brinjal is known as Aubergine
Brinjal becomes Melanzana when it gets to Italy
Brinjal Dishes – Some Favourite Dishes of Brinjal from Across India
Baingan Ka Bharta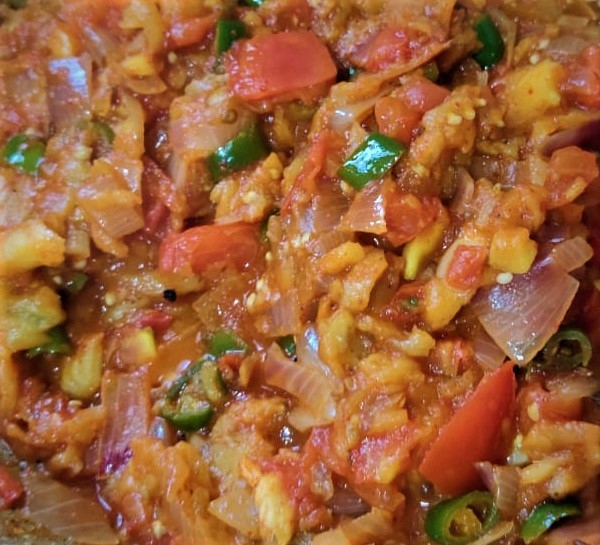 This is our favourite Brinjal recipe and we make Baingan Ka Bharta frequently at home. This is one of our favourite ways of indulging in the pleasures of the aroma and texture of Brinjal. The beauty of Brinjal dishes is that they are highly adaptable. So you have Brinjal recipes for rice, like say Baingan Ka Bharta which tastes amazing with phulkas or parathas too.
Here is our Baingan Bharta Recipe:
Ingredients that we use are the common ones that can be found in any Indian kitchen.
Brinjals (the large Bharta Brijals that can be found in any supermarket)
Tomatoes
Onions
Garlic
Green Chillies
Coriander Leaves
Salt, Red Chilly Powder, Cummin Seeds, Asafoetida, Turmeric, Garam Masala
Cooking Method
Burn the Brinjals directly on a gas flame till it gets blackened and the skin can be peeled off, ensure that it is uniformly burnt
Peel of the skin from the burnt Brinjal and cut the inner part into small pieces or you can even mash it and keep aside
Heat a few spoons of oil in a pan and add a spoon of Cummin seeds and a pinch of asafoetida
Add diced Onions and tomatoes along with green chillies into the oil, add a pinch of salt and cook for 3-5 minutes, after that add the mashed brinjal portion, mix well, and cook for another 3-5 minutes, add salt to taste, and continue cooking for 3-5 minutes till the vegetables are done. Add red chilly powder, diced and crushed garlic or garlic paste, and garam masala as per your taste, and cook for a couple of minutes.
The Baingan Ka Bharta is now ready to be served with steamed rice or with rotis of your choice
Enjoy the spicy and smoky flavour of the Baingan Ka Bharta
Gutti Vankaya Kura or curry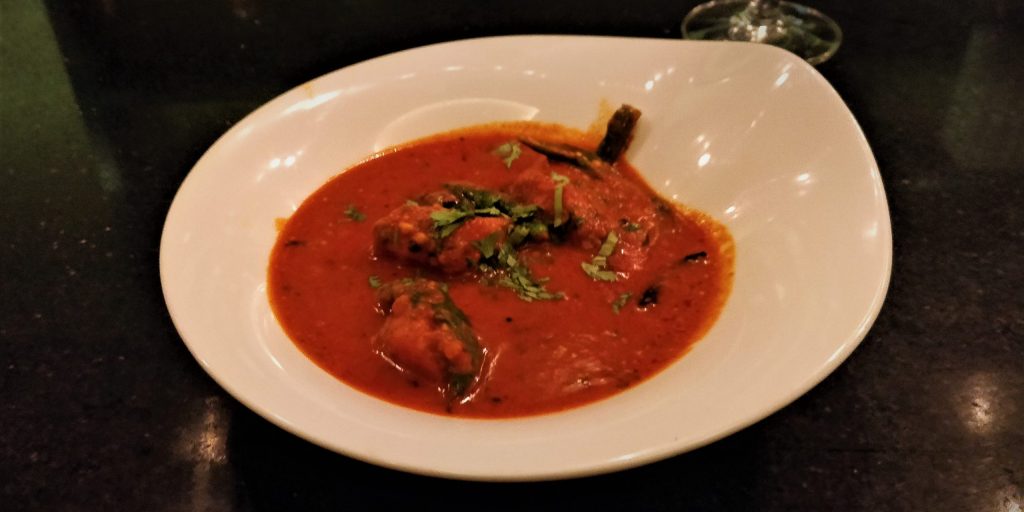 Gutti Vankaya Kura or curry is a popular variation of the stuffed Brinjal which is part of Andhra cuisine. Small Brinjals with their stalks intact are stuffed with spices and then cooked in a spicy curry.
Brinjal Sambhar
Sambhar is a regular affair in South Indian kitchens. The general perception among many Indians not too aware of South Indian cuisine is that Sambhar is an accompaniment of Idly. However, Sambhar is a daily staple in south Indian cuisine. The Sambhar is different every day based on the vegetables that go into it. These vegetables give variety and different flavours to Sambhar which is eaten with rice.
Brinjal gives a unique flavour and aroma to Sambhar. It is great as a stand-alone vegetable in Sambhar and also when it is combined with Hyacinth Beans famously known as Avarekai in Karnataka.
Vangi Bath or Brinjal Rice
This is a rice dish cooked with Brinjal. The "Vangi", in the name, refers to Brinjal and Bath refers to rice. So in South Indian cuisine, you will find many variations of this based on vegetables used and method of cooking. So you have Tomato Bath, Bisi Bele Bath, etc. One of the traditional and popular dishes is Vangi Bath. The method of preparing consists of cooking brinjal with a little oil and then adding specially prepared spices or masala and then mixing with pre-cooked rice.
Brinjal Curry
Brinjal lends itself very well to the different varieties of curries that adorn the cuisines of India. Be it North, South, East, or West, Brinjal features in many curry recipes.
You can make a simple South Indian Curry that is a traditional recipe in Karnataka. This involves cutting the brinjal into long and slender pieces and sauteing it with a little oil after seasoning with Mustard seeds and asafoetida and turmeric. This curry does not have too many spices. Just a little salt and a little bit of red chilly powder. Once the Brinjal is done, which does not take much time. It can be served after garnishing with a generous amount of coconut gratings. This curry goes well with rice and rotis, as well as a side dish for your lunch or dinner.
One can also cook a north Indian style curry with Brinjal. It can be cooked along with onions, potatoes, and tomatoes, with heavy spices.
Begun Bhaja of Baingan Bhaja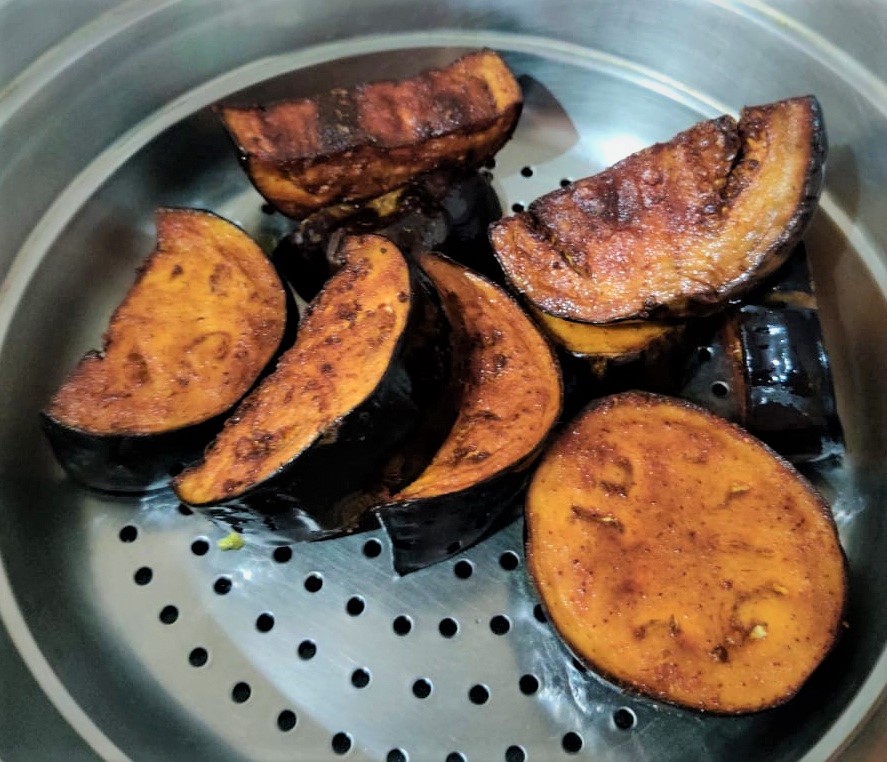 Begun Bhaja is a popular Brinjal dish in Bengali cuisine. Round slices of Brinjal are marinated with spices and then coated with rice flour and finally deep-fried. This dish has an amazing texture and goes well with rice, rotis, or a stand-alone snack too.
Bharwa Baingan
Variations of Barwa Baingan are cooked in kitchens and restaurants across India. Essentially Bharwa Baingan is stuffed Brinjals, where the Brinjals are stuffed with spices and onions, etc., and then cooked by deep-frying or baking. The use of peanuts, tamarind, and coconut may be used in the stuffing based on regional preferences and recipes.
Bagara Baingan
Bagara Baingan is a Brinjal dish that is popular in Hyderabad. In the Bagara Baingan recipe, small brinjals are slit and then the whole brinjals are deep-fried and kept aside. A separate curry is made of onions combined with tamarind, and assorted spices with seasoning sesame-seeds. Once the curry is cooked, the fried brinjals too are added into the curry and cooked together over simmering heat.
Some Famous International Brinjal Dishes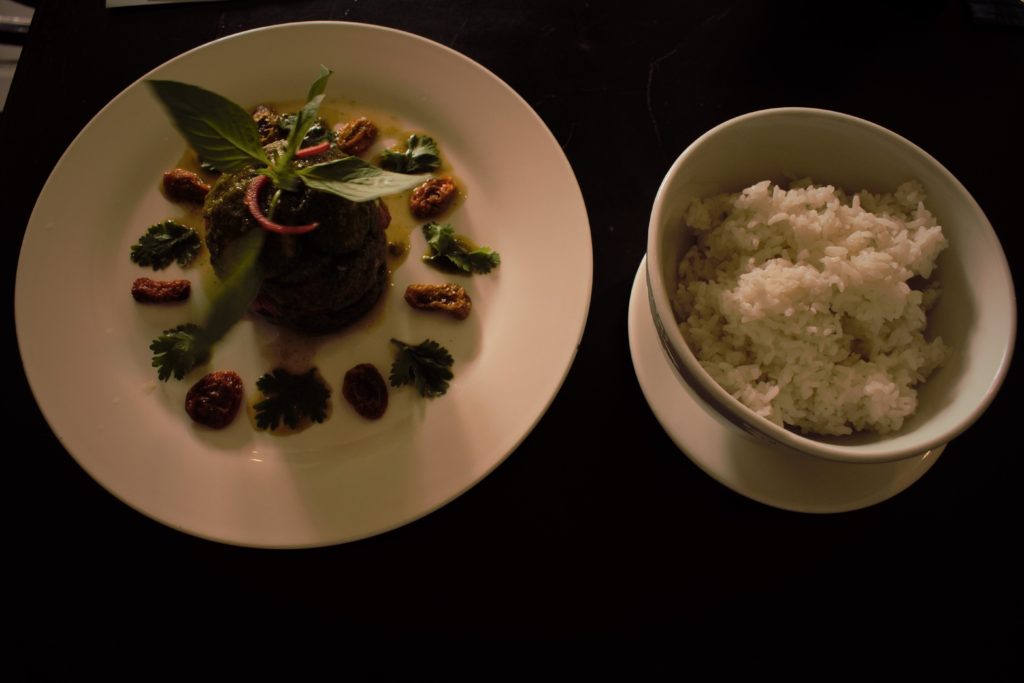 Baba Ghanoush
Baba Ghanoush is a famous Brinjal dish from the Levantine cuisine belonging to the Eastern Mediterranean region. This dish is primarily a salad or an appetizer. It is interesting to note that the cooking of the Brinjal in this dish is similar to the Indian Baingan Ka Bharta. The Brinjal is either baked or burnt over an open fire and then the skin is peeled off. This gives it an endearing smoky flavour.
Parmigiana di Melanzane
Italian cuisine is popular all over the world. Everyone loves their pizzas and pasta. However only connoisseurs of international cuisines would be aware of the famous Italian dish called Parmigiana di Melanzane. The Melanzane in the dish is of course Brinjal! The origin of this dish is attributed to the region of Sicily. The dish is made by frying sliced Brinjal in a pan, after which it is infused with layers of tomato sauce as well as cheese, and this preparation is then baked.
Brinjal Benefits
Brinjal is not only an object of epicurean desire, to be coveted and relished, a star in the cookery books of the world. It is also a vegetable, well actually a fruit with tremendous health benefits too. Here are some benefits of Brinjal.
The Brinjal is rich in antioxidants which can help in the prevention of various diseases
The Brinjal is rich in nutrients including fibre, potassium, Vitamin C, etc., which have a number of benefits including improved heart health
Brinjal is low in calories and has rich fibre content which helps in controlling blood cholesterol levels
It is also believed that the Brinjal has long-term anti-carcinogenic properties, which means it can help in the prevention of cancer
We hope you liked our Brinjal dishes post and can sense the flavours and aromas of Brinjal dishes from around the world. Are you ready to binge on Brinjal? Enjoy yourself and do let us know your thoughts through the comments section.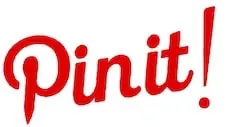 Thanks for visiting our site nirvandiaries.com and taking the time to read this post.
If you wish to collaborate or work with us then reach us at nirvandiaries18@gmail.com
We'd love if you'd comment by sharing your thoughts on this post and share this post on social media and with your friends.
Follow our journey on our social media channels:
Facebook   Twitter   Instagram  Pinterest